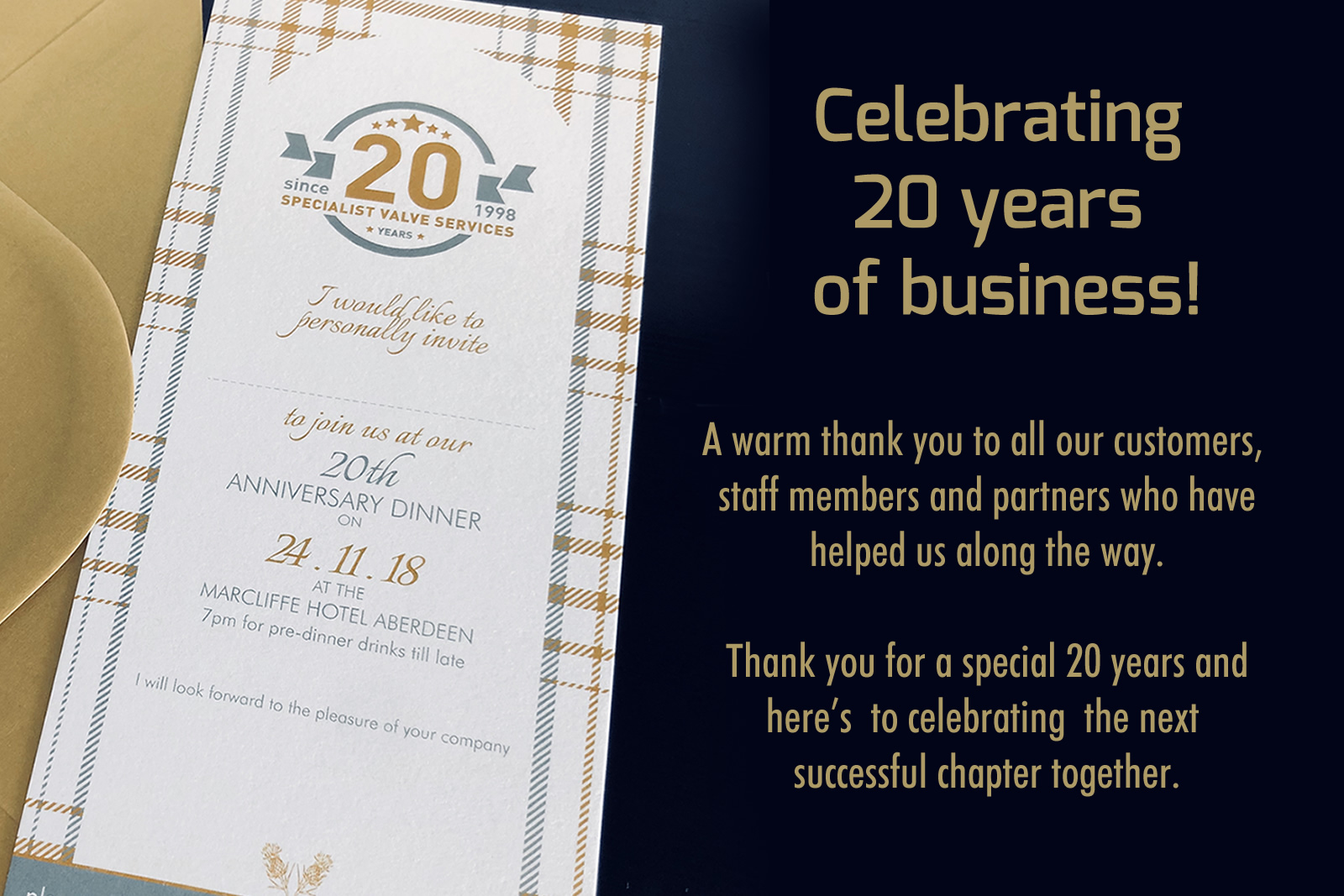 SVS CELEBRATE 20 YEARS OF BUSINESS
CELEBRATING 20 YEARS OF BUSINESS - The 27th of November 2018 marks the 20th anniversary of Specialist Valve Services incorporation.
Our 20th Birthday is a huge cause for celebration at SVS. The 20 year anniversary marks an important milestone for us as we look back on our growth, accomplishments, and relationships built with customers, staff and the community.
A warm thank you to all of our customers, staff members and partners who attended our Anniversary dinner at the Marcliffe Hotel on Saturday the 20th of November, who made it a memorable night to remember. To those who could not attend thank you for your kind congratulatory messages.
Gerry Henry (Company Director) quoted "The last 20 years can be defined as a kaleidoscope of incredible memories, challenges and a lot of hard work. The business has undergone massive changes such as restructuring, moving to new premises and globalisation, but SVS has become stronger and more efficient than ever before.
My employees who were, are and will always be my intellectual assets and have always stood by my side and helped to make SVS what is it today. I am very lucky to have such a fantastic team of dedicated and loyal employees.
Thanks, you to all who shared the night with us and made it a night to remember, it meant a lot to me and to the staff. I would also like to thank all our customer and partners who have helped us along the way.
Thank you for a special 20 years and here's to celebrating the next successful chapter together."
During the night we also held various raffles in aid of charity and raised a colossal £4,748.50 for the following local charities. Thank you to all who contributed, it means a lot to us.