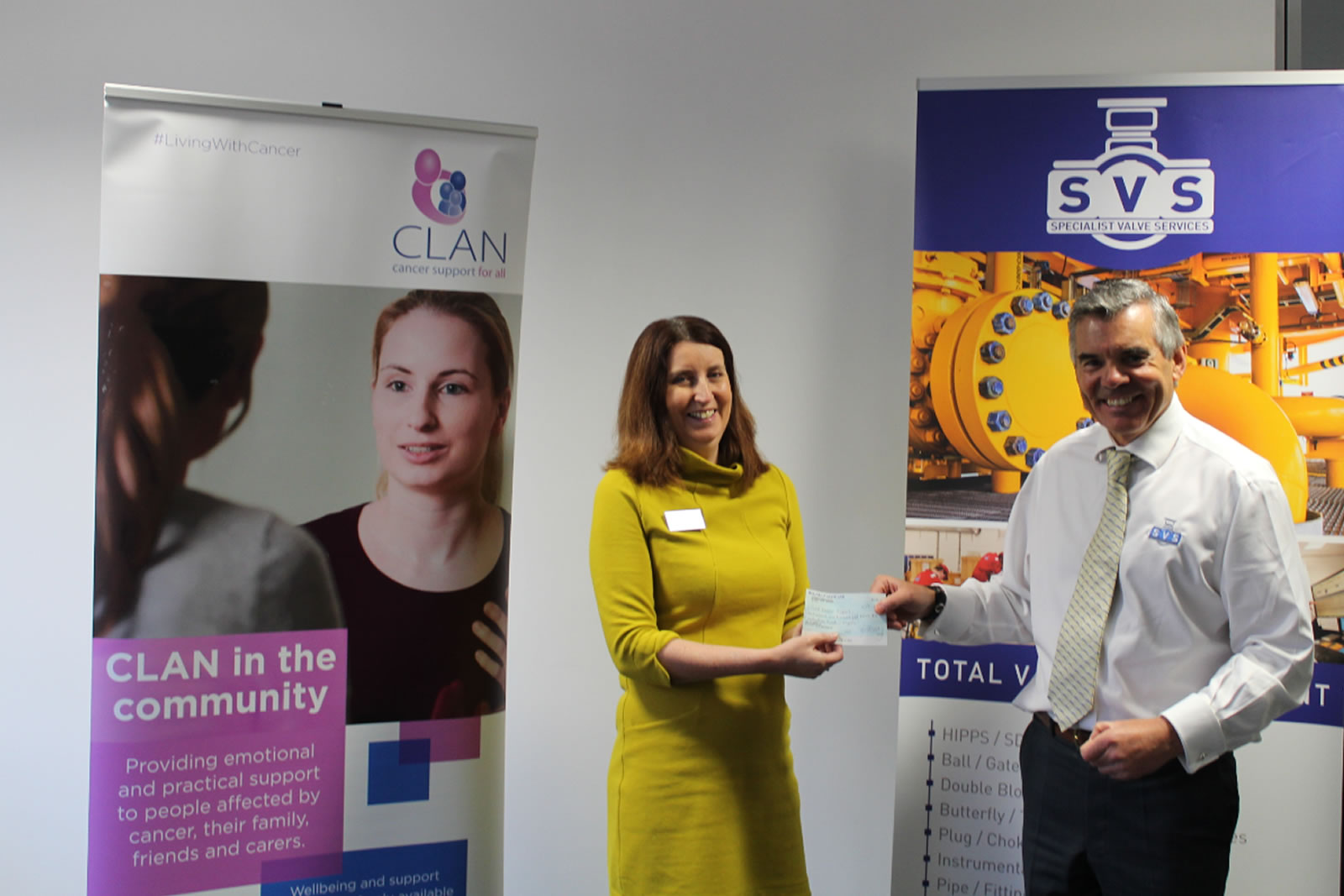 SVS's 20th Anniversary Celebration raises £1,123.75 for Clan Support.
SVS present a cheque for £1,123.75 to 'Clan Support.
Here at SVS, we are huge believers in supporting local charities and so it was decided, on the night to arrange various raffles and auctions.
Collectively we raised a tremendous £4495.00 to be split between four local charities. A big THANK YOU, to all who made contributions on the night.
Accepting the cheque from Gerry Henry (Director) was Maureen Wilson (Communications Manager) from Clan Support in Aberdeen
Moureen Quoted... "We were delighted to receive a kind donation of £1,123.75 from the charity auction held at THE SVS's 20th Anniversary dinner dance. This money will allow CLAN Cancer Support to continue to deliver person-centred services for anyone affected by a cancer diagnosis in north-east Scotland, Moray, Orkney and Shetland.
Thanks to donations like this, CLAN is able to provide a wide range of services including information and support, counselling, complementary therapies, social and wellbeing activities and dedicated support for children and families. All our services are delivered by highly experienced and qualified counsellors and therapists.
For those travelling to Aberdeen hospitals for appointments or treatment, we also offer 'home from home' bed and breakfast accommodation at CLAN Haven as well as assistance with transport to and from hospital."
Gerry Henry (Director at SVS) quoted – "We always like to support local charities and we see CLAN as a very important one in the local community, here at SVS, we have all been affected in some way by Cancer and the devastating effects it has on our families and friends and collectively we all decided it was important to support people living with cancer in the local area."
CLAN Cancer Support is a well-established, local charity providing emotional and practical support to people affected by cancer, their family, carers and friends.
Services are freely offered to all from pre-diagnosis and diagnosis through treatment and beyond at support and wellbeing centres located across north-east Scotland, Moray, Orkney and Shetland.
Our aim is to help people live with and beyond their or their loved ones cancer diagnosis and improve the quality of life for all those who turn to us for help and support.
Other Charities supported on the night were: